Water
Automatic Dispensers
---
Our water automatic dispensers are completely Made in Italy!
They are perfect for the sale of water: fresh, still and sparkling, micro-filtrated, debacterized, directly from the hydric line.
We produce various models of water dispensers, for any need, from vending to camping.
These Automatic Water Dispensers can be installed in offices, factories, schools and hospitals, as well as in automatic shops 24/7, parks, city centers, touristic places and parking areas. Reduce the use of polluting disposable plastic bottles!
Finally, your customers can buy good and fresh water 24 hours per day, 7 days per week!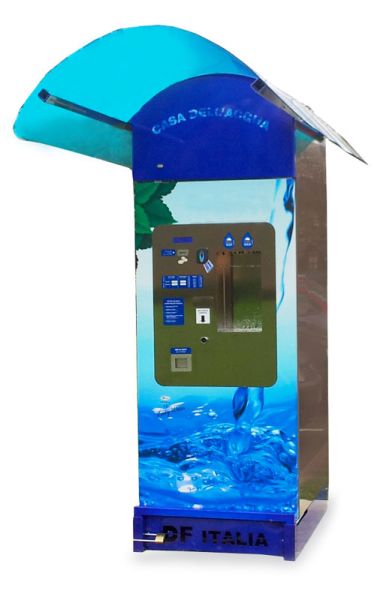 Technical features:
---
Refrigerating and carbonating systems

Sanitization of the withdrawal area with a steam jet

Front door opening for cash withdrawing and servic

With reusable bottles dispense

Simple and intuitive for the final user

Remote control with GSM module for alarms and reports via text message and/or E-mail

Interactive telemetry through the WEB APP with subscription for advanced functions (accounting, products stored, temperature, price changing and alarms, additional e-mails for more users)

Compatibility with the most common credit and debit card readers. Other payment systems can be implemented under request (for example: payment through Smartphones)